Co to jest ofao.exe? Czasem Windows wyłącza się długo, bo ta aplikacja się zamknąć nie może…
kreatoriusz , daj loga z HijackThis i Combofix

kreatoriusz , popraw tytuł tematu, używając przycisku
Logfile of HijackThis v1.99.1

Scan saved at 17:02:42, on 2008-11-17

Platform: Windows XP SP2 (WinNT 5.01.2600)

MSIE: Internet Explorer v7.00 (7.00.6000.16735)


Running processes:

C:\WINDOWS\System32\smss.exe

C:\WINDOWS\system32\winlogon.exe

C:\WINDOWS\system32\services.exe

C:\WINDOWS\system32\lsass.exe

C:\WINDOWS\system32\svchost.exe

C:\WINDOWS\System32\svchost.exe

C:\WINDOWS\system32\spoolsv.exe

C:\Documents and Settings\mon-peg\ofao.exe

C:\WINDOWS\Explorer.EXE

C:\Program Files\Creative\SBAudigy\Surround Mixer\CTSysVol.exe

C:\WINDOWS\system32\Rundll32.exe

C:\Program Files\ULI5289\ALi5289.exe

C:\Program Files\Java\jre1.6.0_07\bin\jusched.exe

C:\Program Files\PC Tools AntiVirus\PCTAV.exe

C:\WINDOWS\system32\ctfmon.exe

C:\WINDOWS\system32\CTsvcCDA.exe

C:\Program Files\Common Files\Microsoft Shared\VS7DEBUG\MDM.EXE

C:\Program Files\CDBurnerXP\NMSAccessU.exe

C:\WINDOWS\system32\nvsvc32.exe

C:\Program Files\PC Tools AntiVirus\PCTAVSvc.exe

C:\WINDOWS\system32\svchost.exe

D:\HijackThis.exe

C:\WINDOWS\system32\wuauclt.exe


R1 - HKLM\Software\Microsoft\Internet Explorer\Main,Default_Page_URL = http://go.microsoft.com/fwlink/?LinkId=69157

R1 - HKLM\Software\Microsoft\Internet Explorer\Main,Default_Search_URL = http://go.microsoft.com/fwlink/?LinkId=54896

R1 - HKLM\Software\Microsoft\Internet Explorer\Main,Search Page = http://go.microsoft.com/fwlink/?LinkId=54896

R0 - HKLM\Software\Microsoft\Internet Explorer\Main,Start Page = http://go.microsoft.com/fwlink/?LinkId=69157

R0 - HKCU\Software\Microsoft\Internet Explorer\Main,Local Page = 

R0 - HKLM\Software\Microsoft\Internet Explorer\Main,Local Page = 

F2 - REG:system.ini: UserInit=C:\WINDOWS\system32\userinit.exe,C:\Documents and Settings\mon-peg\ofao.exe \s

O2 - BHO: AcroIEHlprObj Class - {06849E9F-C8D7-4D59-B87D-784B7D6BE0B3} - C:\Program Files\Adobe\Acrobat 7.0\ActiveX\AcroIEHelper.dll

O2 - BHO: SSVHelper Class - {761497BB-D6F0-462C-B6EB-D4DAF1D92D43} - C:\Program Files\Java\jre1.6.0_07\bin\ssv.dll

O2 - BHO: PDFCreator Toolbar Helper - {C451C08A-EC37-45DF-AAAD-18B51AB5E837} - C:\Program Files\PDFCreator Toolbar\v3.3.0.1\PDFCreator_Toolbar.dll

O3 - Toolbar: DAEMON Tools Toolbar - {32099AAC-C132-4136-9E9A-4E364A424E17} - C:\Program Files\DAEMON Tools Toolbar\DTToolbar.dll

O3 - Toolbar: PDFCreator Toolbar - {31CF9EBE-5755-4A1D-AC25-2834D952D9B4} - C:\Program Files\PDFCreator Toolbar\v3.3.0.1\PDFCreator_Toolbar.dll

O3 - Toolbar: Ask Toolbar - {F0D4B239-DA4B-4daf-81E4-DFEE4931A4AA} - C:\Program Files\AskSBar\bar\1.bin\ASKSBAR.DLL (file missing)

O4 - HKLM\..\Run: [CTSysVol] C:\Program Files\Creative\SBAudigy\Surround Mixer\CTSysVol.exe /r

O4 - HKLM\..\Run: [P17Helper] Rundll32 P17.dll,P17Helper

O4 - HKLM\..\Run: [UpdReg] C:\WINDOWS\UpdReg.EXE

O4 - HKLM\..\Run: [NvCplDaemon] RUNDLL32.EXE C:\WINDOWS\system32\NvCpl.dll,NvStartup

O4 - HKLM\..\Run: [nwiz] nwiz.exe /install

O4 - HKLM\..\Run: [ALi5289] C:\Program Files\ULI5289\ALi5289.exe

O4 - HKLM\..\Run: [NvMediaCenter] RUNDLL32.EXE C:\WINDOWS\system32\NvMcTray.dll,NvTaskbarInit

O4 - HKLM\..\Run: [SunJavaUpdateSched] "C:\Program Files\Java\jre1.6.0_07\bin\jusched.exe"

O4 - HKLM\..\Run: [PCTAVApp] "C:\Program Files\PC Tools AntiVirus\PCTAV.exe" /MONITORSCAN

O4 - HKCU\..\Run: [ctfmon.exe] C:\WINDOWS\system32\ctfmon.exe

O4 - HKCU\..\Run: [Odkurzacz-MCD] C:\Program Files\Odkurzacz\odk_mcd.exe

O8 - Extra context menu item: E&ksport do programu Microsoft Excel - res://C:\PROGRA~1\MICROS~2\OFFICE11\EXCEL.EXE/3000

O9 - Extra button: (no name) - {08B0E5C0-4FCB-11CF-AAA5-00401C608501} - C:\Program Files\Java\jre1.6.0_07\bin\ssv.dll

O9 - Extra 'Tools' menuitem: Sun Java Console - {08B0E5C0-4FCB-11CF-AAA5-00401C608501} - C:\Program Files\Java\jre1.6.0_07\bin\ssv.dll

O9 - Extra button: Badanie - {92780B25-18CC-41C8-B9BE-3C9C571A8263} - C:\PROGRA~1\MICROS~2\OFFICE11\REFIEBAR.DLL

O9 - Extra button: (no name) - {e2e2dd38-d088-4134-82b7-f2ba38496583} - %windir%\Network Diagnostic\xpnetdiag.exe (file missing)

O9 - Extra 'Tools' menuitem: @xpsp3res.dll,-20001 - {e2e2dd38-d088-4134-82b7-f2ba38496583} - %windir%\Network Diagnostic\xpnetdiag.exe (file missing)

O9 - Extra button: Messenger - {FB5F1910-F110-11d2-BB9E-00C04F795683} - C:\Program Files\Messenger\msmsgs.exe

O9 - Extra 'Tools' menuitem: Windows Messenger - {FB5F1910-F110-11d2-BB9E-00C04F795683} - C:\Program Files\Messenger\msmsgs.exe

O11 - Options group: [INTERNATIONAL] International*

O16 - DPF: {D27CDB6E-AE6D-11CF-96B8-444553540000} (Shockwave Flash Object) - http://fpdownload2.macromedia.com/get/shockwave/cabs/flash/swflash.cab

O18 - Protocol: skype4com - {FFC8B962-9B40-4DFF-9458-1830C7DD7F5D} - C:\PROGRA~1\COMMON~1\Skype\SKYPE4~1.DLL

O20 - AppInit_DLLs:   

O20 - Winlogon Notify: WgaLogon - C:\WINDOWS\SYSTEM32\WgaLogon.dll

O23 - Service: Adobe LM Service - Adobe Systems - C:\Program Files\Common Files\Adobe Systems Shared\Service\Adobelmsvc.exe

O23 - Service: Ares Chatroom server (AresChatServer) - Ares Development Group - C:\Program Files\Ares\chatServer.exe

O23 - Service: Creative Service for CDROM Access - Creative Technology Ltd - C:\WINDOWS\system32\CTsvcCDA.exe

O23 - Service: NMSAccessU - Unknown owner - C:\Program Files\CDBurnerXP\NMSAccessU.exe

O23 - Service: NVIDIA Display Driver Service (NVSvc) - NVIDIA Corporation - C:\WINDOWS\system32\nvsvc32.exe

O23 - Service: PC Tools AntiVirus Engine (PCTAVSvc) - PC Tools Research Pty Ltd - C:\Program Files\PC Tools AntiVirus\PCTAVSvc.exe
w documents & settings: aha, mvv, ofao.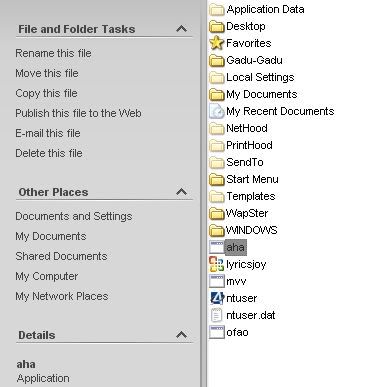 fix w HijackThis
co do tego wpisu nie mam pewnosci, ale dotyczy on tegoż procesu, jakim jest ofao.exe
Jest taka zasada że jeśli nie mamy pewności co do analizowanych logów to nie udzielamy pomocy w tym zakresie bo może się to źle skończyć
Pobierz ComboFix, ale nie uruchamiaj
Wklej do notatnika:
File::

c:\documents and settings\mon-peg\ofao.exe

c:\windows\system32\ppbyseq.exe

Plik -> zapisz jako -> CFScript.txt.
Przeciągnij i upuść ikonkę CFScript.txt na ikonkę ComboFix.exe tak jak tu->
Rozpocznie się usuwanie i powstanie log, który dasz na forum.
Logi dajesz na http://wklej.eu lub na http://wklej.org a w poście dajesz tylko link